Contact Arsenii for Special Events
So many websites have impersonal and anonymous forms to fill out when you want to contact the creators of the site. That is not the case at ChefArsenii.com where you can actually call, text, email, tweet Arsenii to book him for your next event. You can even see where he is cooking and what events are coming up on his Facebook account.
Facebook:

http://www.facebook.com/pages/Cooking-with-Arsenii/112805352082018
Twitter:

http://twitter.com/#!/ChefArsenii
Blogger:

http://chefarsenii.blogspot.com
eMail your questions to:
questions@chefarsenii.com
If you have a request or question for Arsenii ... you can
call or text him at
(408) 659-6547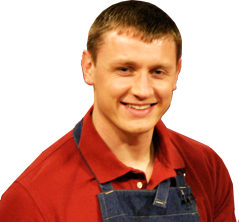 "By putting my email address on this website for all the world to see ... I am trusting that you will not take advantage of this and send me unwanted emails. The kind of emails I like are those inviting me to cook at a special event either as a demonstration or as a caterer. Email your questions about my recipes and I will be sure to reply as quickly as my schedule allows. I hope to hear from you soon and I wish that you all ... Eat Well and Be Well."


- Arsenii Samoilov