Recipes Anyone Can Master

Appetizers
From Portobello Panini to Hot Lemony Shrimp ... discover how a appetizers can be exciting as entrees.

Salads
With the right presentation and the right dressing, lettuce can be a captivating part of any meal.

Side Dishes
This is not your mom's steamed broccoli. Discover or rediscover the joy of vegetables and greens.

Entrees
From Turkey Tetrazzini to Garlic & Ginger Tri Tip ... your taste buds never knew what they had been missing.

Desserts
Desserts can be as simple as Chambord Strawberries or do something exciting with flame and Grilled Fruit.

More Recipes
You never know what you will find in this category. Mango and Orange Smoothies anyone?
The WEB never tasted so good
Now available online is the complete first season of Arsenii Samoilov's "Cooking with Arsenii". As Season 2 is released for broadcast you will find new episodes added to this site ... so come back soon for more video recipes from The Peoples Chef.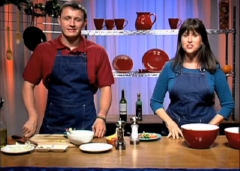 Arsenii's Featured Recipes
Discover even more simple yet wonderful recipes that just about anyone can prepare. Fine cuisine is no longer reserved for an expensive night on the town.
CLICK HERE
to treat yourself and treat your family to taste sensations while learning even more in special commentaries from Arsenii. Make your next dinner party one that keeps everyone talking for months.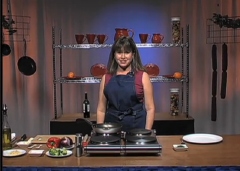 Explore Episodes from Arsenii's Show
From Appetizers to Dessert ... and everything in between. Enjoy episodes from the "Cooking with Arsenii" show. Eating well no longer means that you have to give up taste and presentation or spend an entire day in the kitchen.
Watch and learn how to simplify the creation of award winning meals in your own home in no time at all.
Arsenii's Mission
• To provide people with easy-to-cook and nutritious meals that taste great.
• To further the public's knowledge of what great food can be.
• To give people the desire to share their knowledge with family and friends.



Asenii's Cooking Tip

Learn a new tip each time you visit this site


"
"
Follow Chef Arsenii on Twitter


Sign up to get notification when Arsenii's Android Cooking Tips App is available.